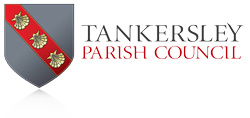 PARISH COUNCIL OF
TANKERSLEY
VACANCY FOR A COUNCILLOR
Notice is hereby given that due to the resignation of:
Ms C Smart
a vacancy exists in the office of Parish Councillor for
the Parish of Tankersley.
The vacancy will be filled by election if within the next 14
days, of the date of this Notice (not counting Saturdays,
Sundays and Bank Holidays), any ten local government
electors for the said Ward/Parish submit a written request
claiming such an election, to the Returning Officer,
Electoral Services, 2nd Floor, Town Hall, Church Street, Barnsley
S70 2TA.
If no such request is made, the Parish/Town Council will fill
the vacancy by co-option.
Dated: 17 November 2020
Signed: G Earnshaw Clerk of the Town/Parish Council
Address: 14 High Farm Meadow
Badsworth
WF9 1PB