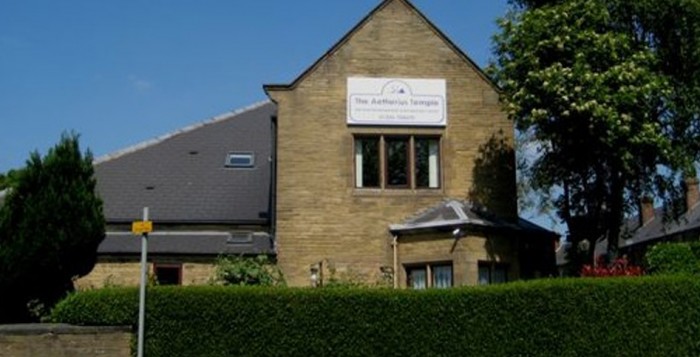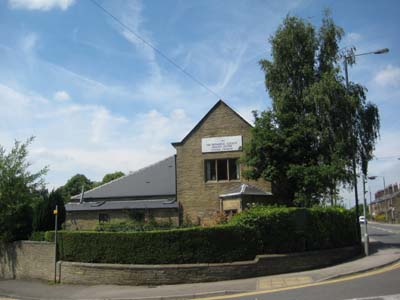 The Northern UK Branch of the Aetherius Society has been officially in existence since 1960 and has occupied its present building (formerly the old police station) since 1975. The building is set in peaceful gardens.
Its beautiful Temple houses one of only four Holy Crosses in the world containing stones from all the 19 Holy Mountains "charged", during an essential and vitally important world mission, called Operation Starlight, through the Founder of the Society, Dr George King. There are, amazingly, nine such mountains in Great Britain, with others being in America, Europe, Africa and Australasia. The nearest one to Barnsley is Kinderscout in Derbyshire to which regular pilgrimages are made by Members and anyone who is interested in joining us and praying for world peace and environmental stabilisation. This year it took place on 28th August.
The Branch is registered as a place of worship. A Sunday Divine Service, starting promptly at 11am, includes prayer and mantra and an address by Dr King or one of the Ministers from the Aetherius Churches around the world. On Monday evenings at 8pm there is a Twelve Blessings Service which concludes with absent healing sent to those who have requested it.
All are welcome to these services, but they need to be there 10 to 15 minutes before the start. We advise anyone attending always to check beforehand lest any changes have been made, by calling us on 01226-744659.
Every Tuesday Contact Spiritual Healing is given by healers from your Parish. Because of popular demand, this has to be by appointment and people are asked to ring 01226-744659 to make their booking.
No charge is made but as we are a not-for-profit organisation and as all our staff are volunteers, donations are always welcome. We get a real mix of patients – those suffering from stress, physical problems or those just about to have or having had surgery. Many find a tremendous benefit from this as they tell us that they heal quicker and often with less pain. We see ourselves as complementary to the medical profession and always encourage patients to seek medical advice. Patients are given 20 to 25 minutes of spiritual healing in our peaceful sanctuary, time that sadly most doctors are unable to give anymore (much as they would no doubt like to). Patients will find a friendly and relaxed atmosphere and many have gone on to take our healing courses, so that they are able, in turn, to help their fellow men.
Most Thursday evenings starting at 7.30pm for 7.45pm, and on one Sunday a month, usually starting at 2.00pm for 2.15pm, Operation Prayer Power charging sessions are held. Using western prayer and eastern mantra, prayer energy is invoked and used to bring about ecological balance, relief from suffering or natural disasters upon our planet. And goodness knows there is much suffering and there are many disasters facing us constantly. These sessions are for qualified attendees only, but membership of the Society is not a prerequisite. If anyone would like to learn more about this wonderful and effective Mission and how they can participate, they have only to get in touch with us. So often people wonder what difference they can make when faced with the problems of the world. We can show them how important just one person can be and what a difference they can make.
The Aetherius Society gives many talks at the Branch on spiritual matters, wellbeing, correct breathing, yoga for health, dowsing, karma and reincarnation, life after death, numerology, life on other planets and many other subjects. It holds a number of courses throughout the year, of which the course "You Too Can Heal" is one of the most popular, as anyone can be taught to heal. Speakers from the Society are in demand from local groups to give talks on a wide variety of subjects. So if you would like to attend a talk or a course or if your organisation would like a speaker, do get in touch.
At least once a year we hold an Open Day and many of you will have seen our banner proclaiming it outside the building as you drove into Barnsley. But we encourage anyone to call in at any time of the year if they would like to know more about what we do or if they have any questions of a spiritual nature to which they would like answers that they cannot find elsewhere.